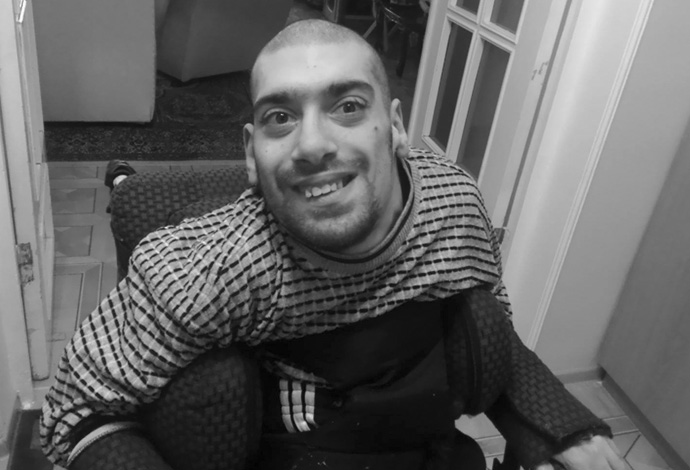 The best and the most beautiful things in the world cannot be seen or even touched – they must be felt with heart.                                
Helen Keller
Part 1 Revelation
My father is a pilot. I'm very connected with him, he is the only and the best friend of mine, they're my angels with my mom.
I have a health problem – I'm suffering from Cerebral Palsy. I cannot do anything by myself. Anyway everyone has its own fortune, we can't change it, but it can change us, as its've changed me. This very story is about that.
So, one day it turned out that he had to go to the United Arab Emirates for a business trip. It was in August 2009. As you know network is outspread all over the world and also in our country and to staying contact with my father, I asked my cousin to register me on classmates.ru. After registration nothing special happened. Days were passing and suddenly I got a massage from tender, lovely girl, whom I hadn't known before. The massage was the following: "Hello David, I understood that you have problems with health from your photos and I wonder what psychology do the people have with  disabilities."
I forgot to say that her name was Rosie. J
And I asked my cousin to write her that I agree to make friends with her. So how everything had started. We got acquainted, we had talked a lot. She had so many questions about myself, I was very patient and answered all the questions. She was very impressed with my sane and wise answers, because in our nation there's a stereotype that people with physical health problems can't do anything as normal people do. Having a physical problem is the same as having a mental problem. And when the questions where over, the jokes time came.
What else is there? – she asked.
My eyes fell on the table and I saw a half – empty juice glass.
Nothing, but an executed two plum grains.
She laughs sending me smiles J J J J J J J.
I have never heard such a thing "an executed two plum grains", – you are very unusual person, – she said.
I felt a little bit satisfied. Our conversations were getting warmer and warmer day by day. Nevertheless days were passing with talking to each other and sending more time with each other.
As I have problems with announcing words we were just chatting. Every morning she was sending a massage to my cellphone like this: " Good morning an unusual person" or " good morning my native soul".
Those words were making me a little bit happy and pleased, helping me to spend my hollow life full of joy and interest. That was going on for three weeks and one evening she wrote with sad smiles L L L.
– David, I'm so sorry but I was forbidden to use this page and I cannot write you anymore.
– It's a pity, – I said.
And we said goodbye to each other.
This was an interval in our story.
Let me share my impressions with you my dear reader and reassure you what I have learnt from this story.
People like me – never build personal relationships with the presence of a third person, no matter how great is the temptation.
Girls – never base on a play of love from the pity.
To the relatives of the health problems people – never withdraw them of right to love and to be loved.
Part 2: The Return
In January 2011 my father had returned. One evening he was helping me in front of the computer and suddenly a massage came to my site. It was she – Rosie: my joy, my pain and my suffering. She had written the following.
Hi David, I was forced to delete my page then but now I am a free person.
I was unlimitedly happy, but I was hiding my emotions. But I asked my father to answer the massage.
I'm so happy but never let me go ever again.
She claimed never leave me and send a wonderful song (if You want you can find it in youtube.com and listen "Tracy Chapman – Spring").
Then I told my father who was she, he laugh saying "penguin in Love " J J J.
I had been fallen in love when I was a child, but this one was more over than….
You will never find something like this in the bottom of the ocean. I was feeling good with her. It was like she had given an aim to my life, to my empty days. I've never felt something like this ever before.
It was a tenderness, hope, belief to the future. But wasn't love yet. One evening she wrote.
David, I want to come and see you.
A cold wind went over my whole body. It seems I was feeling what would go after.
I asked.
– Why do you want to see me?
– Don't think anything else. I just want to see you at last.
My parents said.
There's nothing bad, if she wants let her come.
Those where the people who had said that no Armenian girl would live with me, because of the Armenian way of thinking. I'm sorry but we have a mentally ill thinking.0
However, after a long thinking I agreed to meet.
The day before meeting I described the place where I was living and told her that my father would meet her at the bus stop.
My cousin was joking by saying.
Your bride is coming. J J J.
I was very excited, I haven't slept the whole evening and in the morning I got up with a bad headache. Some minutes later my phone rang, my father answered and went out to greet her. I was waiting with a fast heartbeat. The door opened and someone appeared at the door, I heard some voices, then I heard footsteps, which were getting closer and closer.
Suddenly steps and voices stopped, beside me was my mom hand in hand with Rosie.
So David and this is your Rosie – Said my mom.
I have seen so many girls. But she ……..
I wouldn't say she was a real beauty, but there was something that moved my heart.
She was very elegant, not very tall girl with thin figure as me. I was looking at her with a huge hunger, she was a forbidden fruit. She smiled mildly and said
Good morning David, at last I saw you, how have been imagining me?
As I see you now, – I answered.
My father invited to sit and she sat by my side and was listening to my father very attentively. He was telling her my story, how I was overcoming all the difficulties and now I was there. At that very moment my mother came and invited to the dining room. And we went to have the tasty dinner made by my mother. She was helping my mother to make the table and my father was helping me to sit. We all set and she beside me. I was feeling like a king next to his Queen. I was looking at her all the time, but it was pity I couldn't touch her. We have a good time at the table, then I show her how usually I spent my time at home. She was looking at me with satisfaction.
Sorry David but it's already late I have promised my mom to come back early. So let me go, then we'll meet again. Ok?
Sure – I said calmly and she went.
In the evening she wrote.
David I am impressed and delighted with you and your family.
Yeah, I'm blessed to have this family, – I answered proudly. – But tell me please after you saw me did anything changed?
David, is there anything I should know about us?
And what is it?
I have feeling – I answered with trembling heart.
That's why you have been so closed to me? – she asked.
Yes, – I answered.
I'm ready to do anything to make you happy.
I was so happy that time, thought I found the love, which is mine in this huge world, but….
Days were passing and I was getting closer and closer to her than ever. I didn't know how to reach the computer after eating, drinking and other needs.
It was March and suddenly she disappeared. I was so bothered, it was the first time she disappeared after the return. And one day I learned that something had happened to her, something unfortunate.
I was informed about it 2 weeks later when she was already at home from hospital. We were talking all day long again, I was giving her hope, I was exhorting her not to despond, bringing examples from my life, even making jokes to forget the past. I loved her as like a friend as like a beloved creator.
Strolling in the network I saw a very nice set of jewelry and immediately asked my cousin to order it for her. Weeks were passing and one day she said she want to visit me again.
Wonderful – I said.
But tell me please, what can I bring for you?
Nothing, just take yourself.
Seriously!!
Chocolate J.
Which one do you prefer?
Alpen Gold.
Very well – she said smiling J J J.
I didn't know what was the aim to visit me, if she didn't love me, if she didn't want to be beside. Just being a friend? I don't need any friends, because I have enough friends around me, who are more than as a simple friend. But being just a friend isn't enough if you have feelings to that person. Friends can't fulfill or replace the thing which is called love. Love is the source of life, anything good has love inside .
So the day came and she visited me again. I saw the bandage on her eye. I couldn't speak because of emotions for a while. She brought a big package of chocolate bars as I had said. I was very thankful to her. I asked my father to bring the present for her, which I have for her and presented it. When she opened the package she smiled and at the same time blushed.
You make me shy David, can I try it?
My mother lead her to the bedroom and for a while they came back. When I saw her it seems the time had stopped. She was so beautiful that it seems the jewel had been made specially for her. At that very moment I realized: I loved her all my soul, all my body , I wanted to touch her, to smell her scent and it was like a fever. It was in vain, cause I couldn't do that. Then we went to the dining room to dine as before and were talking for a long time. But this talk was another one, as it was about something calm and tender. Then my mom came and sat beside Rosie and she started telling her story about that evident showing her eye to my mom. She didn't want me to see. Maybe she didn't want me to feel bad. The time came and she had to go and said goodbye. She kissed everyone, came to me and said.
Thank you for everything "my native spirit"
And she had gone!!!
Part 3 : Discrimination
After she had gone we were talking more and more. She had really liked my gift and she was talking about it many – many times. I was so glad that she loved it. I was feeling myself a human in the human world.
 Since April to August everything was perfect but once she wrote.
David, I am shocked, one of my friends make a proposal and I don't know what to do.
I couldn't understand what was going on with me for a while . It seems the lightening hit me, then I came around, regained consciousness and wrote.
If he is a good person marry him, but you should forget me!!!
She didn't want to forget me, saying that after marriage she would visit me and we could  stay friends. But the last thing I told her was.
Rosie, I am not a toy in your hands.
After that for two months she was disturbing me, phoning and writing, she even asked my parents to persuade me to write her but I couldn't.
At last my mom said her.
Rosie, if you're going to bother David, it will hurt his health and if you don't want it please go away from his life forever and forget him.
She had gone and never appeared in my life again. I deactivated my profile and came back to live my simple life, but the time was passing and I was going away inside like a candle while burning. I was not eating, I didn't want to do anything at all: talking, listening. Six months has passed by staring at the walls. During that months some doctors were observing me in several hospitals. None found anything. How to find the think that hurt me – has gone.
After some months ice had melted, I felt my body. My wounds were scaring. I started to live with more wish than ever. I realized that I had crashed to Discrimination. Yes, I am not afraid of this word. People were telling me that I will fall in love again and again.
Yes, even thousand times, maybe I found another women, but my heaven will open in her coasts….