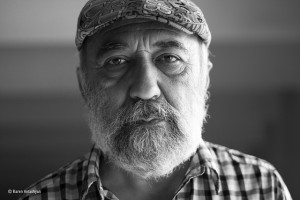 Truly I Say
Where we left each other,
Our children
Will come and go
From our disease
they will suffer, I know
otherwise—
upon our tombs,
out of our dust
roses will grow.
Dead Points
As an unuttered word,
the Whole is here, indeed,
the Ruins of Past-Present-
Future—in the Same
Pre-Seed.
Eternal like rust,
The Whole is here—immaterial
Sand and Dust.
Joseph Brodsky, Like
the last Adam
who Before the Beginning
names
one by one
each creature
(alive or lifeless)
passing before him
and every time
is the Last Time.
Salutation
What
What poetry
What poetry is
What poetry is this
What poetry is this that
What poetry is this that does
What poetry is this that does not inspire
Elevated feelings?
For the liar?
The World That Exists
The bones of the deceased
live beneath the earth;
above the earth,
the bones of the living subsist.
The souls of the deceased
live above the earth;
beneath the earth,
the souls of the living subsist.
Man Calling
Who are you? Show yourself.
I'm running out of hope.
Translated by Samvel Mkrtchyan
***
An Apostle appears with
spasmodic face and foaming at the mouth,
and says, "Everything in this dying down
is like everything in being up"…
His speech reaches corrupted to the crowd
from the place he stands – on a bank stone –
wind doesn't obstruct while he is speaking,
but it doesn't matter for a careladen man
what he is telling, the miracles
are numbered, if you spread them
there won't be a free place to live
in a beforehand occupied area, especially in down
where, you may remember, everything
is like in being up. Why is wind evil?
Why are waves rougher? And now
the Apostle is not only silent, he
notices even that he has still been
in this dying down, in front of the lates…
And his heart presses from peculiar pain,
"May be anything … must be wiped out…?"
The grief-stricken Apostle forgets at the moment
that he can never change everything
what is written and what is in the down –
as unchangeable as waves and sea stones.
***
The Highest Star is setting.
And someone
chooses again
a fisherman,
a mite exchanger.
And every time
when passes God
blood remains after.
And after men remains
Rubbish and Ashes.
***
man is more
than man
love is more than love,
life is more than life.
And only stars
being far away,
unachievable,
are equal in size.
Armenia
is a far star…
"It is in its size,
it will be measured itself.''
Translated by Christina Kocharyan