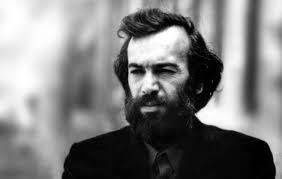 DEEPER IN SLEEP THAN A THOUSAND YEARS
Deeper in sleep than a thousand years
I am kinder than a thousand fairy tales,
And more than any spring the mists here
Can hear the purling of the warmest creeks.
Emptied by my forefather's hand
And in his hand completed, ended,
Live these days on the warmest sounds.
Having walked upon the coolest streams.
I am leaving for another region now
Where delights and winds are in full blossom;
Placing another sky upon the ground
I do believe in another song,
Leaving, having lived the tenderness
And the ancient compassion of the stars;
Neither yearning nor bread shall desert me
And I shall not ride other people's mares.
Do not look around to find me again,
I did not exist, forget gossips and lies.
I, emptied by my forefather's hand,
And in his hand completed, I.
CALL ME, O DAY
Call me, O Day–
it's to reveal oneself,
let the hired maids of memory sing in chorus,
let the rain declare a day of boredom,
let me bear echoes
and droll fantasies.
I hear anew
that return of exhaustion has no memory,
the diamonds of the morning are just breaking,
application of faith opening like a door.
And I, like a conciliating hand,
and I, like a legitimate eye,
and I, as a man waiting for the new –
weave ornaments out of rain's delight
to donate them to petitioners.
Do open a door: I am free of losses,
Here I come to compensate a song,
And the chorus will isolate the seer.
AND YOU WAKE THE DAY
And you wake the day
In the horns of abundance and you bring slumber to the dawning
poem;
where are your years of conception and re-reading?
where is the image your life is reiterating?
where is the day that brings you earnest conception?
where is the wind enhancing nightmares and visions?
where is your face?
The days elapse and the word "joy" is fading,
and your night is slipping like a blessed speech,
and the wind is sound asleep on these exuberant fields–
where is your love?
No illusion of return within you, slide down;
every beginning is fatal, every colour dark,
see how your face turns to the ground, hardening–
where is your death?
Translated by Samvel Mkrtchyan
CHORAL SONG
The ash of loss,
give me a small memory box
in order me to create from branches a death orchestra,
in order me to be sung in the dawn and evening, –
and if I'm a pipe let me be silvered,
and if I'm a harp let me be gilded,
and if I'm a reed let me be close to the estranger,
and if I'm a horn you're close to me.
The ash of loss,
give me a small memory box.
***
You're walking alone through the reading fields,
and some women were sprinkling water over annunciations,
the wind was standing in front of your door as a fairy tale,
and the red field was singing an oblivion song –
and the song resounded the sounds of raging silver,
and the song had been subjection color, spirit of the field,
someone consecrated the red in a hand,
the green and yellow had been collected,
the blue was raising from the warm gulf,
in the early mornings of frigid huddle.
And my blood burnt from the heat,
and it was heard the sounds of subjection,
and the day got clear
on the bowls of glorification.
***
If the memories have still burnt you
and you see only what is holy,
and what's visible is always absent
let me talk to you just for a minute,
look at your eyes just invisibly
and border your face
from your dress's decorative seams
in order you to be back again
from the land which isn't existed.
And let your return be of your own will
as if there is a bas-relief inside you embroidered in revelation seam,
and you need only someone who can
sober you,
and decipher the dust
as a makeup person of the muddy light,
and embroider in the golden-seam of vivacity.
Translated by Christina Kocharyan