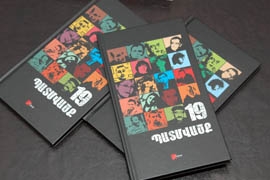 The results of the Prose 2011 short-stories contest were summed up.
The results of the Prose 2011 short stories competition and the handing of awards were held at the State Theater of Song of Armenia yesterday ahead of the declaration of Yerevan as the 2012 World Book Capital and the events dedicated to the 500th anniversary of Armenian printing. Prose 2011 was organized for the first time by Antares publishing house and Granish Literary Club.
"The goal of the competition was to establish a strong relationship between readers and the public at large and encourage reading, and the fact that Yerevan has been declared the World Book Capital in 2012 will help achieve that goal," Prose 2011 competition coordinator Sona Khachatryan said.
It should be mentioned that 19 out of the 121 works submitted by participants over the age of 16 moved on to the final stage of the competition and were examined by the jury comprised of linguist David Gyurjinyan, writer, publicist Vachagan Sargsyan, literary critic Arkmenik Nikoghosyan, poet Karen Antashyan, film critic, translator Zaven Boyajyan and others.
Among the 19 short stories selected for the final stage were the stories by Vardan Fereshetyan, Hrachya Saribekyan, Vache Yepremyan, Susanna Harutyunyan, Hovhannes Yeranyan, Lusine Vayachyan, Sargisi Hovsepyan, Ara Nazaretyan, Hrach Beglaryan, Armen Ohanyan, Tigran Kirakosyan, Lilit Karapetyan and others.
The 19 short stories have already been published in a separate collection in nearly 500 copies by Antares publishing house.
The participants that made it to the final stage received several encouraging gifts from different sponsors. The authors of the three winning short stories, including Hrachya Saribekyan, Armen Ohanyan and Hovhannes Yeranyan were awarded the 1st, 2nd and 3rd degree certificates, as well as 300,000 drams, 100,000 drams and 50,000 drams respectively by Director of Antares publishing house Armen Martirosyan.
"With this, we are telling authors that we are together. We are also telling them to create, and the society will pay attention to them," Armen Martirosyan said.
After the award ceremony, the State Theater of Song will present a new version of the musical performance based on Komitas's song "Yekel em".
Harutyun Tsatryan