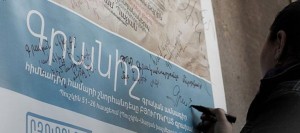 By GAYANE OGANESYAN
The "Granish" literary magazine debuted on March 26. The magazine's origin goes back to the electronic literary club of the same name created by Karen Antashyan. The magazine was issued thanks to the "Antares" publishing house's financial support, as well as the creative work executed by the editorial team consisting of the poet Karen Antashyan; literary experts Arkmenik Nikoghosyan and Hasmik Hakobyan; writer-prosaist Aram Pachyan; and poet, translator, publicist Ashot Gabrielyan. The entire team was present at the event held in the "Bureaucrat" bookstore and answered questions from the media.
"Today, one of the tasks of Armenian literature is to form a literary market. This problem can be solved only if a connection is set up between the writers and the readers. If we manage this, it will mean that our labor was not in vain. Certainly, the publisher acts as an important abettor in this process," said Karen Antahsyan. "The unique nature of our magazine is that it is the first literary magazine in the country that is printed in Armenian and each issue is a literary project revolving around a single subject. Our first issue is dedicated to integrating into a literary process all the different layers of 'modern language.' Every work selected for the issue centers upon that subject: those being original works, as well as, translations of contemporary foreign language writers, who address that problem within the frames of their own languages."
The name of the first issue nods to this endeavor: "Granish-Lezvani" or "sharp-tongued," according to Arkmenik Nikoghosyan. "In this issue we wanted to touch upon the 'existence' of several layers within the modern language, proclaiming it as a specific, however, already realized language culture. Our desire is to introduce innovations into the Armenian literary field taking into account all the positive experience accumulated by the Armenian press to this day. We have elected the principle of subject-matter for each issue of the magazine in order to shed light on the pressing problems of modern Armenian literature. We aim at introducing them in systematic style and engage in solving those problems as much as possible."
The magazine will be published through the www.granish.org and will differ principally from the electronic version; it will mainly contain works that have never been printed and published before.