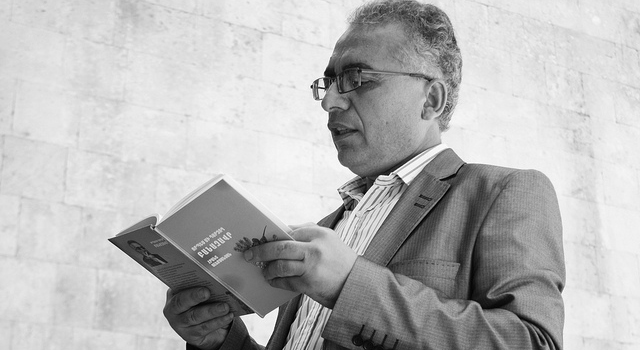 Don't get angry
Winds can come into your veins,
into your bedroom, the secret dwelling of your agitations,-
they have private reckonings with you and your last will and testament,
God knows only what kind of wind gave birth to you.-
The winds beat you down when you're half asleep.
A hand can implicate you in the shadows' march of the coiners
and hangmen, the heaven conciliation and war-arguments
whose names are not know to you exactly,
may be, you haven't anything to do with their godfathers
but you wander into the direction
of its stuck forefinger and words,
for to wander having no address is double-fatal.
You may even become unsettled by a falling leaf,
you may be disgraced easily by storm, by the evening,
by a doe and by pure waters,
you may feel terror and trembling by increasing speeds,
by leakage of news, by the prisoner
who's been brought here by an old agreement to change with the kind of yours…
These are short stories taken from life.
I don't compile even a sound from the unwritten charms.-
You're the pure reflection of the dew falling on darkness's heart.
Don't get angry.
DON'T TOUCH MY PORTION OF STORM
Even the weather's become political
with the vain and secret platforms,-
it's foreseen and changed like a hired deputy…
I stand up for the free and independent rains,
for the frosts and snows, for hurricanes,
for sunny days and all the shadows,
I glorify their free liveliness
and believe that nobody will waste fiercely
my portion of storm…
GEMMA
Picture and design look for a strong warp –
for spirit and stone,
they are indifferent to the metal,-
that's their peculiarities gifted by God.
…I offer you my body too, in order you
to sculpture on it your favourite thing,-
I'll be strong,
I'll keep it with the rapture of a faithful mute,-
as it's your creation,-
and you're connected with me with loneliness and death…
Though it sounds as a woman name –
but I affirm – I'm your Gemma,
all your life's been sculptures on my body
as a call of disaster and as a symbol.
BEFORE THE EXPOSURE
1.
The man leaves his spirit and love
as a champagne cork leaves its bottle.
He doesn't leave his sanctuary because he's drunk
or he's inspired like a gambler who's just won,-
but he leaves only his dear field
for he's banished as an impending exile.-
And young stars fade on every his backsteps.
1a.
Your day, my dear, is like the running on the spot
on the running track.
Your life, my darling, is like a stupid dance-
stamping with feet on the same place.
You won't reach the place.
You're not threatened by the Line Ribbon.
You're the midway's fetish and gong.
You will trample down in the same range so much
that you'll go into its formless and wrathful illusion.
2.
The man leaves the dreamed fatherland as rapidly
as a shaft which flies without address.-
Perhaps one day it'll be stuck into the vainlessness's heart
as a sacred image of idleness.
2a.
You always try to near
with a burning navel string. It's the only border
which's been still noted in the secret maps of existence.-
The main centre is seen from far away.
As it's a delicate model of paradise. And when you approach,
the fiery tongues of exceptions will
meet you like a multi-headed hydra.-
There is a problem for the dumb stone and gulf:
where can they be reduced to ashes?…
3.
The man leaves
the fate sealed by God
like a robber who's just robbed a bank.
/Or truth to tell, he leaves
being infatuated with the false prophet's vain dreams./
The man decided to live
in the spirit's and soul's kingdom
taking his gold and the apocryphal Gospel
with the pedantry of him who's never said a word.
But even his slight step informs against his place.
3a.
You dry up at once after every return.
You haven't shown your nicest masks to somebody
up to today either in a word or bragging.
You only want to make more exact,
whom do they want to take to scaffold?…
But when you hear even a strange name
you worry again and grow red.
You don't see yourself on the cross, on throne and on pedestal.
Where you want to be is so motley and out of sight.
The tembre of the fire-speech
has still swayed you without stopping.
The man's exposure is delayed…
Before the completely dethroning
should be a short eternity.
Like a black dinner-jacket and armoured coat
The day has grown dark gently in Armenia
like a broken-hearted man who lost his love –
as if the reddish gates of paradise
have been lightly closing before the guests and Magians.
There is no need to knock the door,
they never utter a sound
but involve them in a heart-breaking miss and thirst of drug
who can still play carelessly
with the imperceptible shadows of happiness.
… Armenia's night is like a clean black dinner-jacket
which like to wear the towering mountains and the lake mirror –
and they will tell you that the twinkling dark,
which takes fright at fuss and photographing
comes with the couriers of song and dole: –
they are sightworthy and advertable. –
spontaneously or responding the tacit myth
some talking stars fall into the lap of the place
and set it thinking over the sky and sees
which prefer to be out of memory's sight …
… Our car drives carefully cutting the dark haze
and grinding the sense of the road in the range between the house and infinity,
a marten tunnels the earth in such a way in a bright instinct
to get the narrow subway of its autocracy. –
The darkness comes down the sensitive body of Armenia
like a black armoured coat of special detachment.
THE LIMPID WALLS OF TRAGEDIES
The limpid walls of tragedies
Rise layer by layer
Radiating just as uranium ores.
Where can be found
The saving masks of the honest happiness from?
A rifle, so sharp and sudden,
Knocks down
The singing history, God and birds.
Some ancient countries faint
From mighty punches of plot
The gold marchants' party
Grows day by day.
The self-promoting land lords'long shades
Hollow fords for blood-shed.
The day is like Bermud triangle where eart and galaxy are disappearing.
The lompid walls of tragedies
Make up a perfect picture of a labyrinth-
And they, who look for a way out,
Enreach only its colours with theiw sufferings…
MY SOLIDARITY AS A FLOWER
Sated enough with love and pain
A girl is walking
Through the last alley of relationsip
Not a single call will bring her back
She is the negation of return from this time on
And the girl takes with her the last thread of relationship-
The light echo of her name
In drunk -forgetful painlessness…
-Girl, take with you without regret
My solidarity as a flower.
Translated by` Christina Kocharian