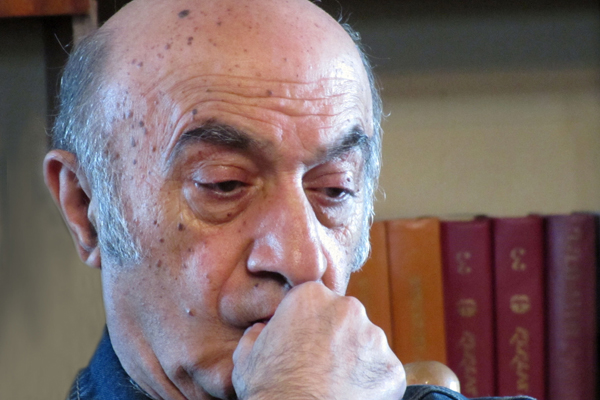 "Never die",
appealed my father to me in the deathbed.
And looking at his blear eyes
I bitterly understood how hard it's
to die flooded into the daylight,
when the front balcony was seen from your window
and a woman was hanging her clean laundry,
then a mistaken ring came, and a voice
of a young man explained that
he couldn't return right now what
he had taken, because…
Then the door of the upper floor was opening slamming
and with the children's hilarious howl and noise
was filled the corridor, then the whole world;
then, the blue sky got brighter
and the bitterness was thickening …
"Never die, that's all I want to say you",
asked my father last time
and died.
ONE DAY
One day, one cloudy Monday morning,
when I got tired of waiting for you
I should take the very first ship
and leave this cloudy world
where no one loves me any more. One day,
especially one Monday morning
I should take the very first train and leave;
I'd leave disappointed because after every Sunday
without exception follows Monday with its gray
and early morning when I stand
in front of the window and think,
"There is no need to shave,
because with the very first plane
I'll leave this world brimful of Mondays
where no one loves me any more".
***
"Why do you leave me, where do you go?
And why aren't you angry with me
that I've left the house in this cold weather dressed so light?",
you were asking me again and again
and punching my heart.
While in the airport the passengers would be announced
a bit later to prepare for the flight,
and I suddenly remembered
that the last ship had been already waiting for me,
the last plane too, fully loaded with yellow leaves,
with rains which would change to snow little by little
and then to tears and then
I should hear your crying voice which would follow me forever,
it would scratch and stain with blood my heart
on all the ways leaving me from you,
in the last train, in obscurity
because I don't know
either the ways of Elysium or of the purgatory,
I know only
that all the ways leaving me from you
lead me to Hades.
Translated by Christina Kocharian
DO NOT GO GENTLE…
What troubled waters flowing down
the arid streets.
What a wonderfull ghost of death dashing
along each plane,
wincing at the frightened passengers,
knocking on the windows with skeletal fingers,
sitting on the wing,
flailing its legs. Pretending
it doesn't hear the intensifying cry of the kids.
Oh Allen Ginsberg,
I mount your death, but more I mourn
the loss of my luggage that vanished away
in the labyrinth of the Kennedy Airport.
I still proceed with mourning
though I'm in Armenia now
and my shoes are strolling down the streets
of New Yourk City –
patting heels (oh what beautifull heels-brand-new!),
traveling the underground elevators.
Oh Allen Ginsberg, you passed away-oh Moloch!
Oh Moloch!
You didn't live to see how I mourned your death,
how my eyes were raining tears,
I didn't even have a handkerchief to wipe them
away,
since my handkerchiefs-brand-new, tightly folded,
disappeared along with my bags-they may be
cleaning an American's nose by now.
Flutter oh back flags,
the last Beatnik is gone-at the very wrong time,
on a bright Spring day, when I was investigating
all passers-by in the heart of
Washington D.C.-confident that none of them knew
I was leaving the next day
for ever.
****
I shaved and wrote a couple of lines.
Heaved a sigh watching
little birds fly away
right in the day's eye.
Then I shaved again
and wrote a couple of lines,
heaved a sigh watching
the day return
without a single bird.
What happened to my day?
I resented watching
my lines fly away
heaving a sigh
right in the day's eye.