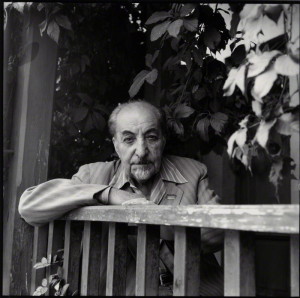 I Can See Them
In the quiet dusk I see it.
The thin smoke rising from my father's house.
Outside the willows sway. And in dark corners
invisible crickets start their song.
I can see my mother in that lamplight.
Her grandchild climbs into her lap to sleep.
And as she rocks my baby
I know that silently she prays:
First for God's hand to touch every hurt,
every sickbed, every traveler far from home.
And then for him to guide
her son, her wandering boy.
Sweet smoke rises from my father's house.
My mother prays, my child sleeping in her arms.
The cricket in invisible corners
sings to the cool willows as they sway.
(1911)
Never Love Black Eyes
Never trust black eyes.
Be wary. Be warned.
Their darkness is a deep,
endless night.
Never love black eyes
where demons can hide.
Just look in I my heart
and see why.
It is a sea of pains
that proves
what turmoil
black eyes can start.
(1897)
Darde Serdis ("Sorrow In My Heart")
With sorrow in my heart,
Poor and wretched,
Cane in hand, my head bare,
After many years of pilgrimage,
Once again I returned to my native land.
Life with its burden,
My back hunched,
My mind confused and wandering,
From seven hills and seven valleys,
I returned yet again to my native land.
At the entrance of the village,
I spied my childhood friend.
Ah! My dear friend,
With a longing heart I ran to him,
And said, "Greetings treasured friend!
Do you not remember me?"
Alas! I had changed a lot,
Sadly he could not remember me.
Cane in hand, I entered our village,
Passing along the home of my beloved,
There I saw my love, rose in hand,
Standing lonesome by her door.
I implored, "My love, your sweet
Countenance has forever enchanted me."
She too could not remember me,
I was poor and disheveled.
With a sorrowful heart,
I reached our home.
And came upon my aging, helpless mother.
I said, "Madame, I'm a traveling man,
Would you allow me
As your guest for the night?"
Ah! My precious mother,
She wrapped me in her embrace,
Held me close to her heart and cried,
"Oh! My dear gentle son, is that really you?"
Over the Stream
Over the stream
The willow is bent,
It stares in silence
On the running water.
In this dream world
All things are forever
Coming and going away,
Fading away, traceless.
And with its head bowed
The willow weeps-
The laughing water keeps
Coming and going away.
The Mirage
One day in the desert a bedouin
looked up and saw a mirage shimmering
ahead. Not water, but the splendor
of a dazzling girl.
In the thirsty, burning desert
among dry thorns, under a shadowless sun
he tried to reach her but instead
of that marvelous love he found death.
In his immaterial, immortal sleep
he still saw the splendor of that girlv shimmering ahead, an eternal mirage.
And in his endless dream he began to walk looking for her.
(1904)
Where Does the Stone Lie?
Where does the stone
Lie, now,
That will be
The headstone over my grave?
Who can tell,
In my roaming life,
I`ve not sat, grieving,
On that stone?
Written in Ravenna
The centuries have brushed by
its summit like minutes
and have gone.
Lightning bolts have flashed
their swords, crushed their knives
against its diamond crest and have gone.
Dying eyes have lifted
their last light against its light
and have gone.
For a minute, a moment, it`s your turn
to face Ararat`s proud forehead
before you`re gone.
(1926)